Flicker and Flora
Regular price
Sale price
$32.00 USD
Unit price
per
Sale
Sold out
Our signature porcelain jar candles are equally stunning and durable. Each 8oz candle is handmade from start to finish in our studio. 
Fragrance Profile
A warm, sweet blend of cinnamon, clove, ginger, and peppercorn.
The Story Behind the Fragrance
The journey of motherhood is like a labyrinth. It takes nine months to reach the center of the labyrinth. It takes much longer for the new mother to find her way back out of the labyrinth and into an understanding of her new identity. Every mother's path out of the labyrinth is different, and it is easy for her to lose herself along the way. For one young mother, the journey back to an understanding of herself has come through returning to an old love - creating food to share with her loved ones. She began working her way through a cookbook that had been sitting dusty on her shelf. The first recipe, an old colonial gingerbread cake, feels representative of her journey. The birth of a new nation. The birth of a new baby. The birth of a new mother.
Share
Care information

Trim your wick. 
Before each time you light your candle, trim the wick to ¼" height.

The first burn is the most important.
Wax has a memory. How it burns the first time you light it is how it will want to continue burning every time you light it. For soy wax candles, allow the candle enough time to burn until the melted wax reaches the walls of the vessel (about 1 hour per inch of diameter). This helps to prevent tunneling. For beeswax + coconut candles, you may find that your candle does not reach a full melt pool in the 1 hour per inch time frame. That's okay! As long as there is no more than 1/4" of wax around the outside it will catch up later in the burning process.


Beauty marks.
After you burn your soy candle, the surface of your candle may appear flaky or uneven when it cools. This is normal! This is the soy trying to return to its original state. It is actually a sign that your candle is 100% soy and does not contain paraffin.

Don't overdo it.
To prevent damaging the vessel, only burn your candle until there is ¼-½" of wax remaining. 

Safety first. 
Keep candles on heat resistant-surfaces. Never leave a lit candle unattended. We do not recommend burning for more than 4 hours at a time.

Enjoy.
View full details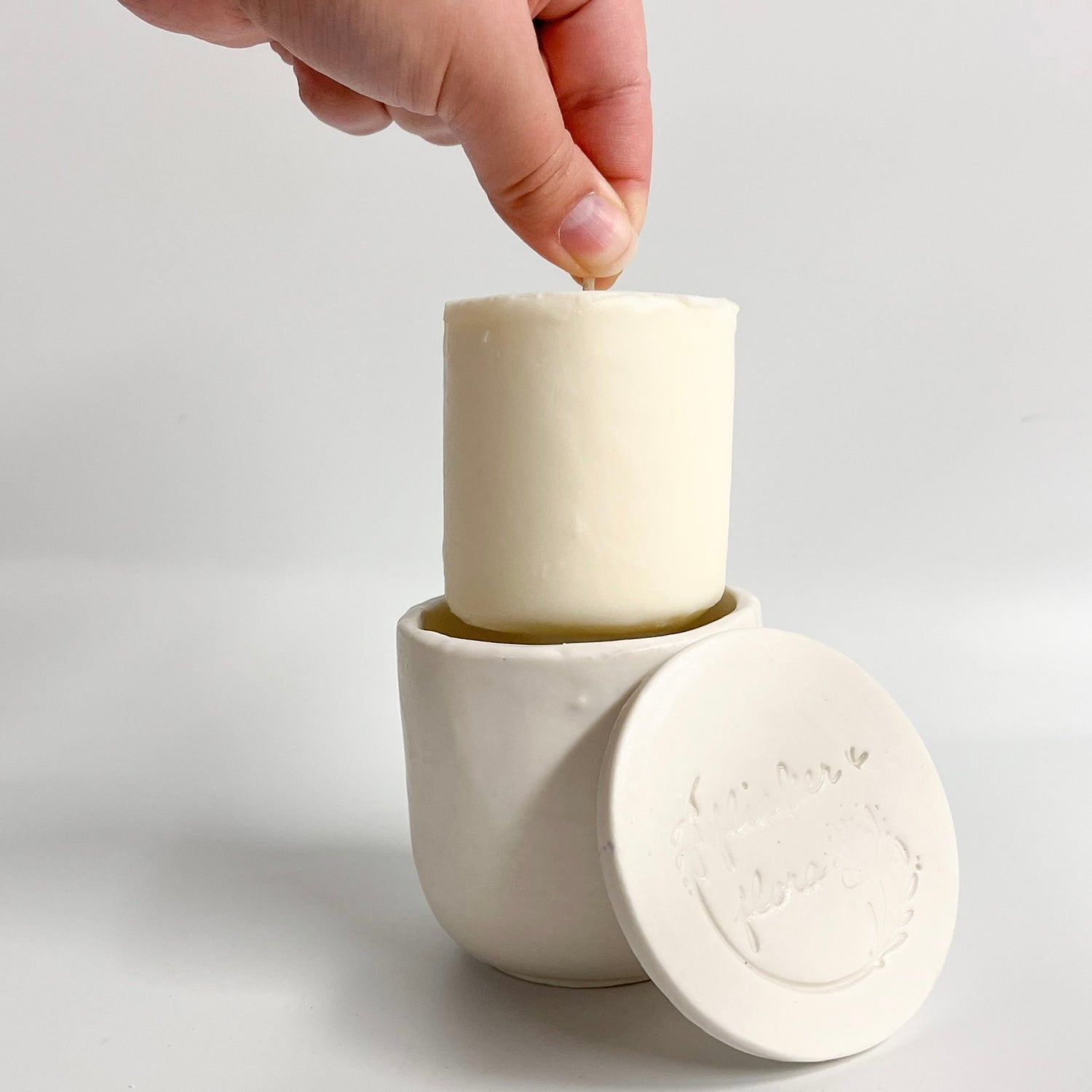 Give your candle vessel another life
After you have burned your candle give it another life with a candle refill! Simply pop in your refill to continuing enjoying your porcelain jar.
Learn more