Flicker and Flora
Regular price
Sale price
$40.00 USD
Unit price
per
Sale
Sold out
Fragrance Profile

A fragrance that captures the experience of a day at the beach, with sun-kissed skin and warm sand. Heliotrope, bergamot, coconut milk, musk, pink pepper and ylang-ylang combine to create a fresh, beachy scent. One whiff will transport you to the beach. 
Her Story

Lili'uokalani was Hawaii's first queen and final sovereign ruler before the islands were annexed by the United States in 1898. Lili'uokalani was educated at the missionary-run Royal School, where she learned to speak fluent English and received some musical training. She would retain her interest in music and poetry, producing more than 160 songs over the course of her life, including the beloved "Aloha 'Oe." In 1874, Lili'uokalani's older brother, David Kalakaua, was named king.

When her younger brother, William Pitt Leleiohoku, died three years later, Lili'uokalani was announced as Kalakaua's heir apparent. In the years that followed, Lili'uokalani did much to lay the foundations for her future on the throne, devoting her efforts to establishing schools for Hawaiian children and serving as regent during the king's 1881 tour of the world. It was in this capacity that she demonstrated what would be her lifelong devotion to the Hawaiian people and first made enemies on the islands: When a smallpox epidemic on Oahu led her to close its ports, she was hailed by many locals but also drew the ire of wealthy sugar cane growers.

In January 1891, King Kalakaua died and Lili'uokalani became the first woman to take the throne. She would also be the kingdom's last ruler. After she attempted to establish a new constitution that would restore power to the monarchy and the Hawaiian people, a group known as the "Committee of Safety" staged a coup with the support of U.S. Minister John Stevens. Wishing to spare her people a bloody conflict, Lili'uokalani stepped down but appealed to President Grover Cleveland to restore her to power. Despite his sympathy to her plight, the president's efforts ultimately proved ineffective, and in 1894 annexationists established the Republic of Hawaii, with Sanford Dole named its first president.

The following January, Lili'uokalani and a group of her supporters were arrested by the new government and charged with treason for their implication in an attempted insurrection. After serving several months of house arrest, on January 24, 1895, she signed a document formally abdicating her throne in exchange for the release and pardon of her compatriots.

If you're a fan of Maison Margiela's "Beach Walk", you'll love our Lili'uokalani scent.
What you put on your skin matters.
That's why all of our fragrances are free of phthalates, parabens, and are Prop 65 compliant.
Share
View full details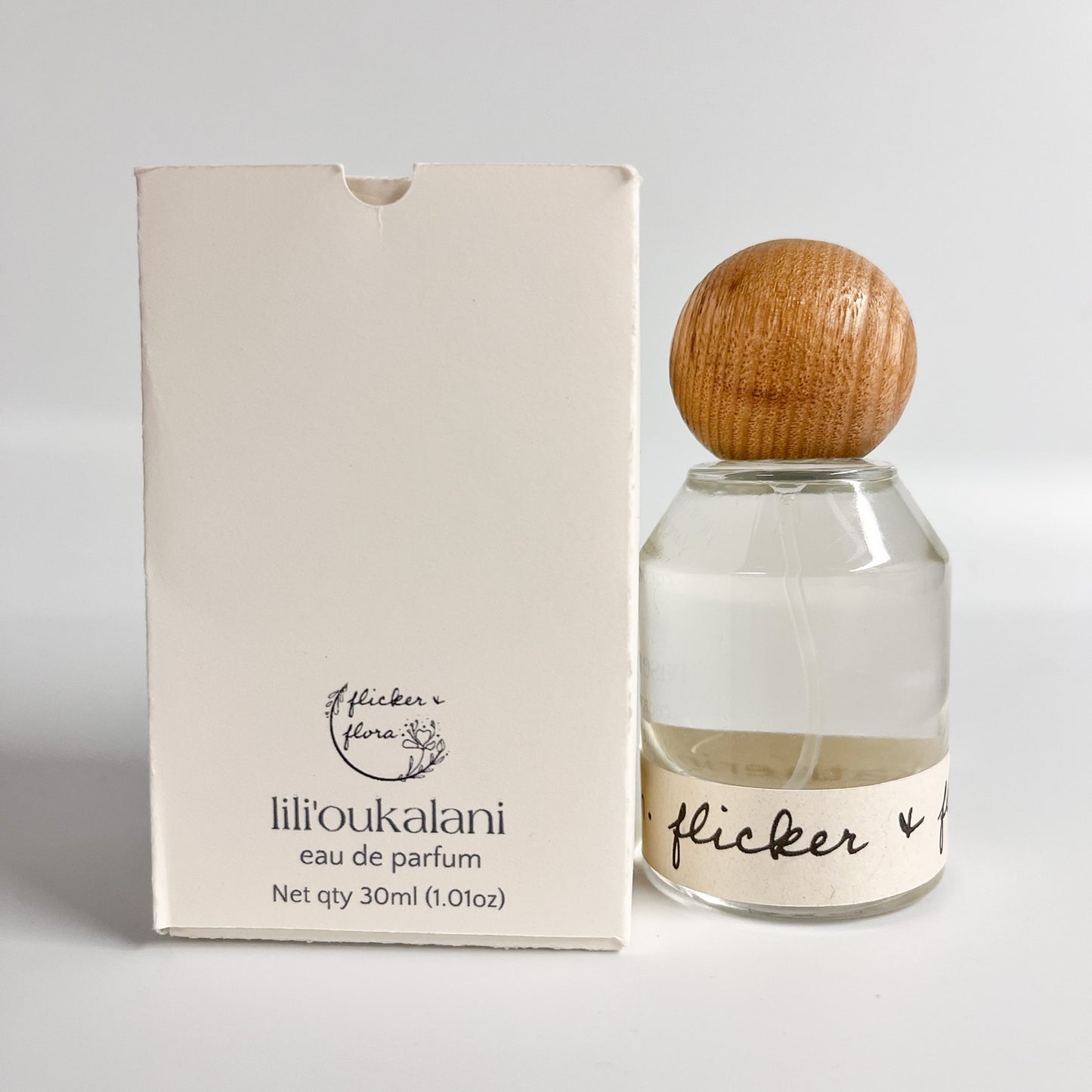 Create your own Discovery Set
Add any four 3ml sample bottles to your cart to create your Discovery Set for $15 (discount will be automatically applied at checkout). When you purchase a Discovery Set, you'll also receive a coupon for $5 off your first purchase of a full size 30ml perfume.