Flicker and Flora
Regular price
Sale price
$40.00 USD
Unit price
per
Sale
Sold out
Fragrance Profile

Madagascar and Tahitian vanilla blend in a delicate tulle of orange flower, rose and magnolia petals with a subtle touch of bitter cocoa.
Her Story

Being handpicked to be one of three black students to integrate West Virginia's graduate schools is something that many people would consider one of their life's most notable moments, but it's just one of several breakthroughs that have marked Katherine Johnson's long and remarkable life.

When Katherine was 34, she heard that NACA (later called NASA) was hiring African American women to solve math problems. These workers were called "computers." Katherine applied for one of the jobs, but the jobs were already taken. Still, she did not give up. She applied again the next year, and this time NACA hired her. She worked with a large group of women who were all computers like she was. But Katherine was different from the other human computers. She asked a lot of questions. She wanted to learn more about her work and about NASA. So she started going to meetings. Before Katherine, only men attended these meetings. She learned so much that she left her job as a computer. She became a team member who worked on different space projects for NASA.

For Johnson, calculating space flight came down to the basics of geometry. She calculated the path for Alan Shepard's 1961 journey to space, the first in American history, and finalized the calculations for John Glenn's successful orbit in 1962. While the work of electronic computers took on increased importance at NASA, Johnson remained highly valuable for her unwavering accuracy. She performed calculations for the historic 1969 Apollo 11 trip to the moon, and the following year, when Apollo 13 experienced a malfunction in space, her contributions to contingency procedures helped ensure its safe return. Johnson continued to serve as a key asset for NASA, helping to develop its Space Shuttle program and Earth Resources Satellite, until her retirement in 1986.

If you're a fan of Louis Vuitton's "Contre Moi", you'll love our Katherine Johnson scent.
What you put on your skin matters.
That's why all of our fragrances are free of phthalates, parabens, and are Prop 65 compliant.
Share
View full details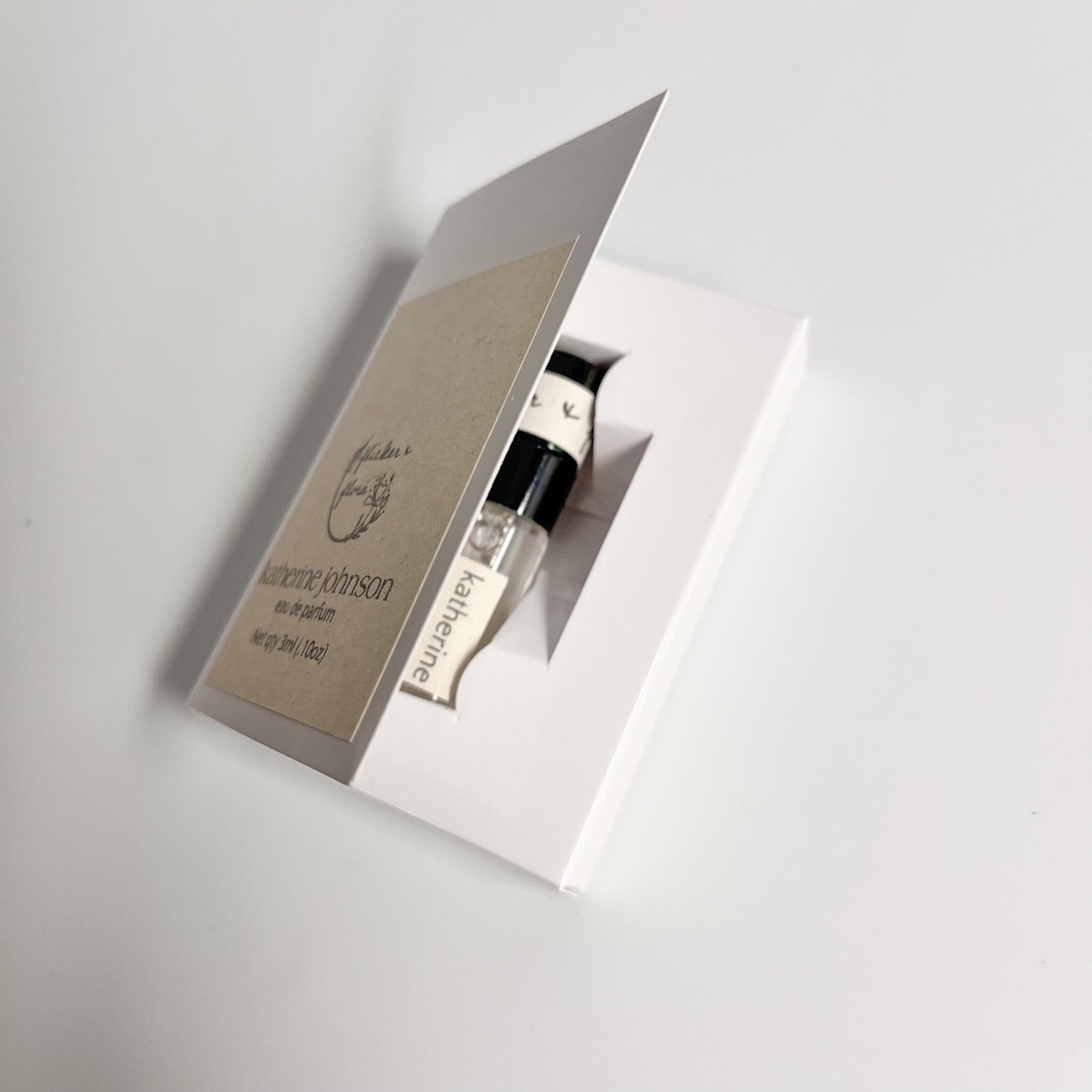 Create your own Discovery Set
Add any four 3ml sample bottles to your cart to create your Discovery Set for $15 (discount will be automatically applied at checkout). When you purchase a Discovery Set, you'll also receive a coupon for $5 off your first purchase of a full size 30ml perfume.