Flicker and Flora
Regular price
Sale price
$40.00 USD
Unit price
per
Sale
Sold out
Fragrance Profile

Delicate notes of freesia, sambac jasmine, Grasse rose and tuberose: an abundance of blossoms exuding a sheer aroma. This fragrance is like walking through an actual flower market. It is fresh and floral. 
Her Story

The Story Behind the Fragrance
Frida Kahlo is considered one of Mexico's greatest artists. She is known for her many portraits, self-portraits, and works inspired by nature and Mexican culture. Frida Kahlo survived through childhood illness, abuse, and serious injury all before reaching adulthood. It was the injury that really got her into painting.

On the way home from school, Kahlo was involved in a near fatal bus accident. Kahlo suffered multiple fractures throughout her body, including a crushed pelvis, and a metal rod impaled her womb. She spent one month in the hospital immobile, and bound in a plaster corset, and following this period, many more months bedridden at home. During her long recovery she began to experiment in small-scale autobiographical portraiture, henceforth abandoning her medical pursuits due to practical circumstances and turning her focus to art. During the months of convalescence at home Kahlo's parents made her a special easel, gave her a set of paints, and placed a mirror above her head so that she could see her own reflection and make self-portraits. She would continue to create autobiographical self-portraits throughout the rest of her life.

The legacy of Kahlo cannot be underestimated or exaggerated. Not only is it likely that every female artist making art since the 1950s will quote her as an influence, but it is not only artists and those who are interested in art that she inspires. Her art also supports people who suffer as result of accident, as result of miscarriage, and as result of failed marriage. Through imagery, Kahlo articulated experiences so complex, making them more manageable and giving viewers hope that they can endure, recover, and start again.

If you are a fan of Maison Margiela's "Flower Market", you'll love our Frida Kahlo candle
 What you put on your skin matters.
That's why all of our fragrances are free of phthalates, parabens, and are Prop 65 compliant. 
Share
View full details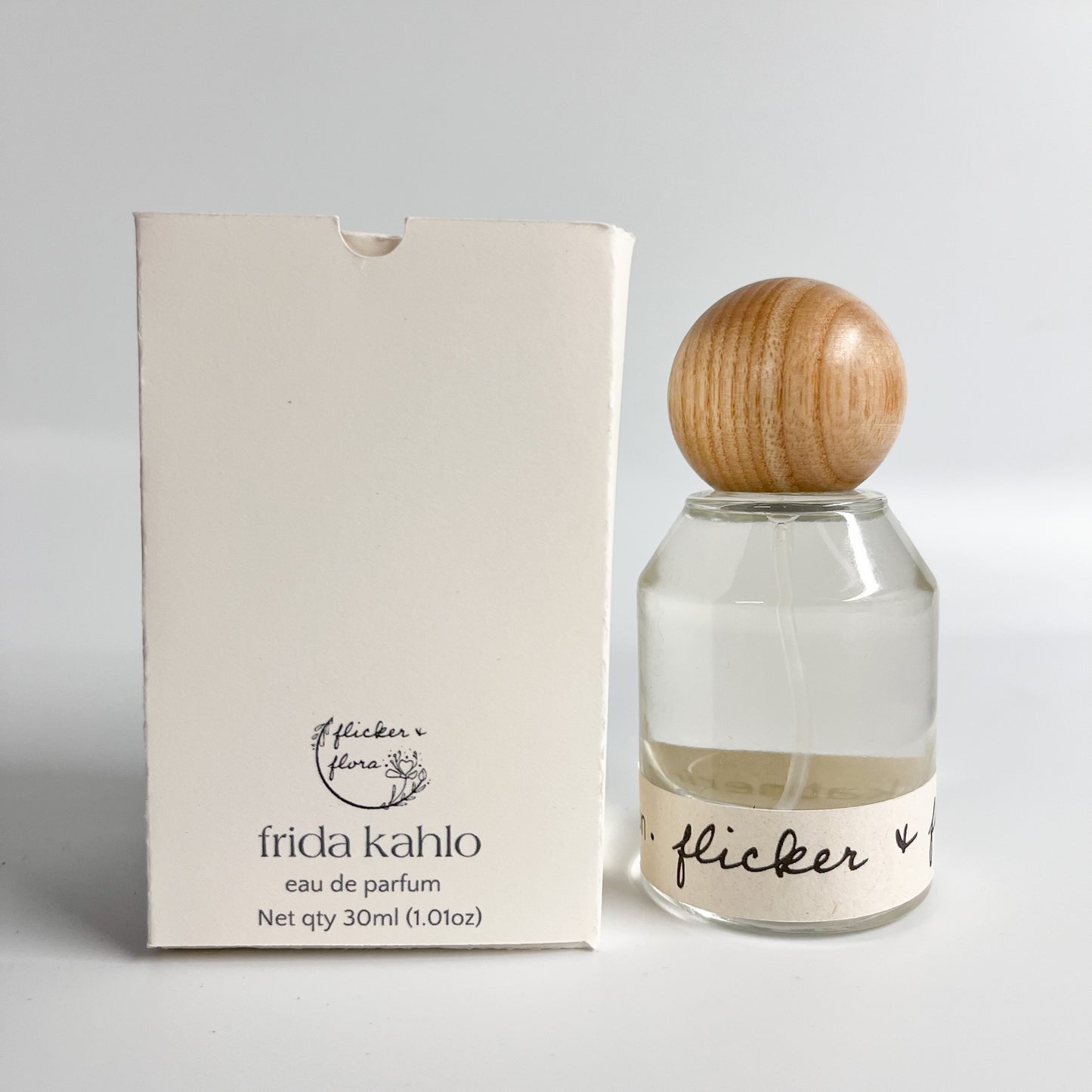 Create your own Discovery Set
Add any four 3ml sample bottles to your cart to create your Discovery Set for $15 (discount will be automatically applied at checkout). When you purchase a Discovery Set, you'll also receive a coupon for $5 off your first purchase of a full size 30ml perfume.